Are you searching for the best Rainmeter Skins for Windows 11/10/8/7 PC? Do you want to customize your Windows 10 UI to make it look more aesthetic or classy? If your answer is yes, then you have stumbled upon the right page. Today I am back with 15 best Rainmeter themes and skins for PC.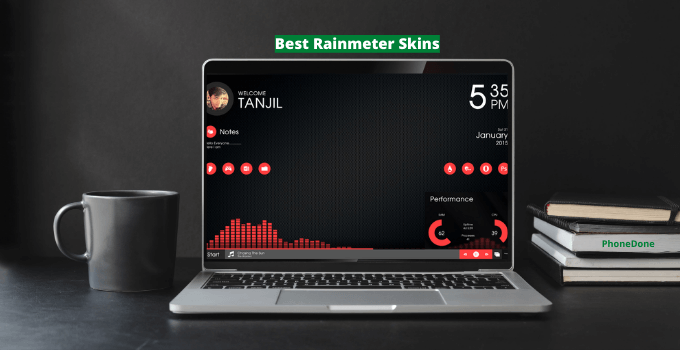 Rainmeter has always been an excellent way to customize a Windows OS based PC or laptop. It can help you change your device's UI within a few seconds.
Therefore, in this article, I will share a list of 15 best Rainmeter skins that you can freely apply to your Windows PC. So, without any further ado, let's dive right in- 
15 Best Rainmeter Skins for Windows 11/10/8/7 PC
Rainmeter themes allow you to customize the appearance of your Windows PC within a few clicks. It let you change the wallpaper, weather, icons, widgets, and much other stuff.
Choosing out 15 of these best Rainmeter themes was a bit difficult for us. Still, I somehow managed to narrow down the list of best Rainmeter skins. So, let's begin our list. BTW, I have also shared these Garageband alternatives for Windows.
I have always been a big fan of Iron Man, and that's why it is one of my most favorite Rainmeter skins. This Rainmeter skin has been developed and designed by a developer named yash1331. The skin is based on an immaculate dark layout, which looks very attractive. It gives the feel of being a geeky nerd.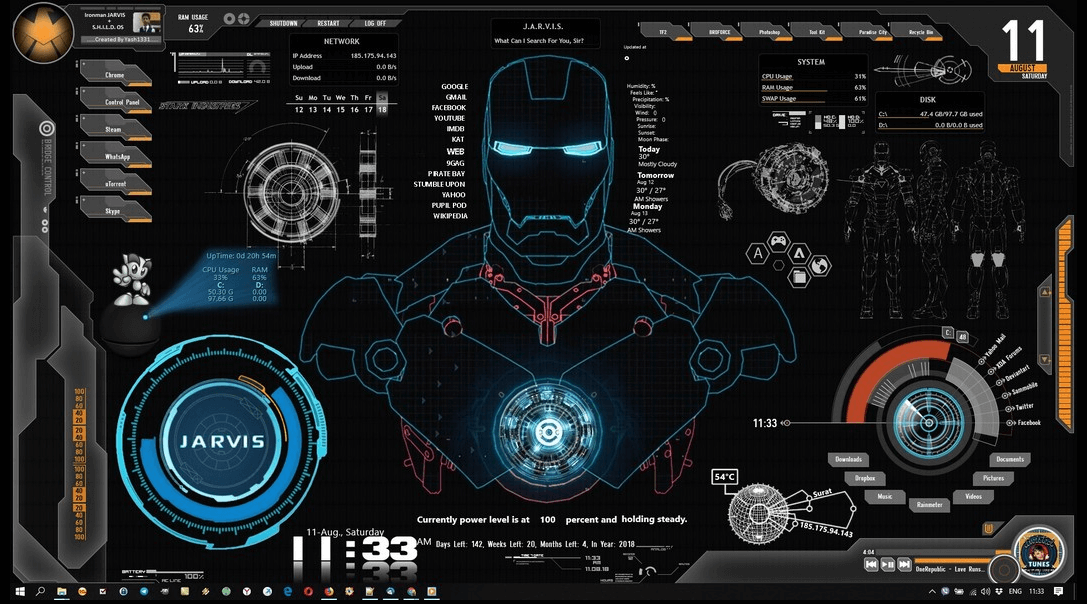 The main attraction of this Rainmeter skin is the wallpaper of Iron Man, which resides in the middle of the display.
Along with that, you can see the three different Jarvis rotators. The graphics of the theme are astonishing and give a very top-notch feel. The animations of the composition are eye-pleasing too.
The best part is that the JARVIS + SHIELD OS Rainmeter theme comes with tons of excellent widgets. These widgets can be used to control and monitor many essential things such as time, weather, RAM usage, battery percentage, CPU usage, network status, and a lot of other stuff.
It not only makes your desktop look appealing but also makes it more functional. Overall, if you are an Iron Man fan or want to create a geeky environment, I strongly recommend trying this Rainmeter skin.
The next Rainmeter skin on our list is trendy among gamers. This theme is based on a top-rated first-person shooting video game, and the theme has been designed by a DeviantArt user named AikoTakashi. If you are a gamer, then I am sure that you will love this theme's composition.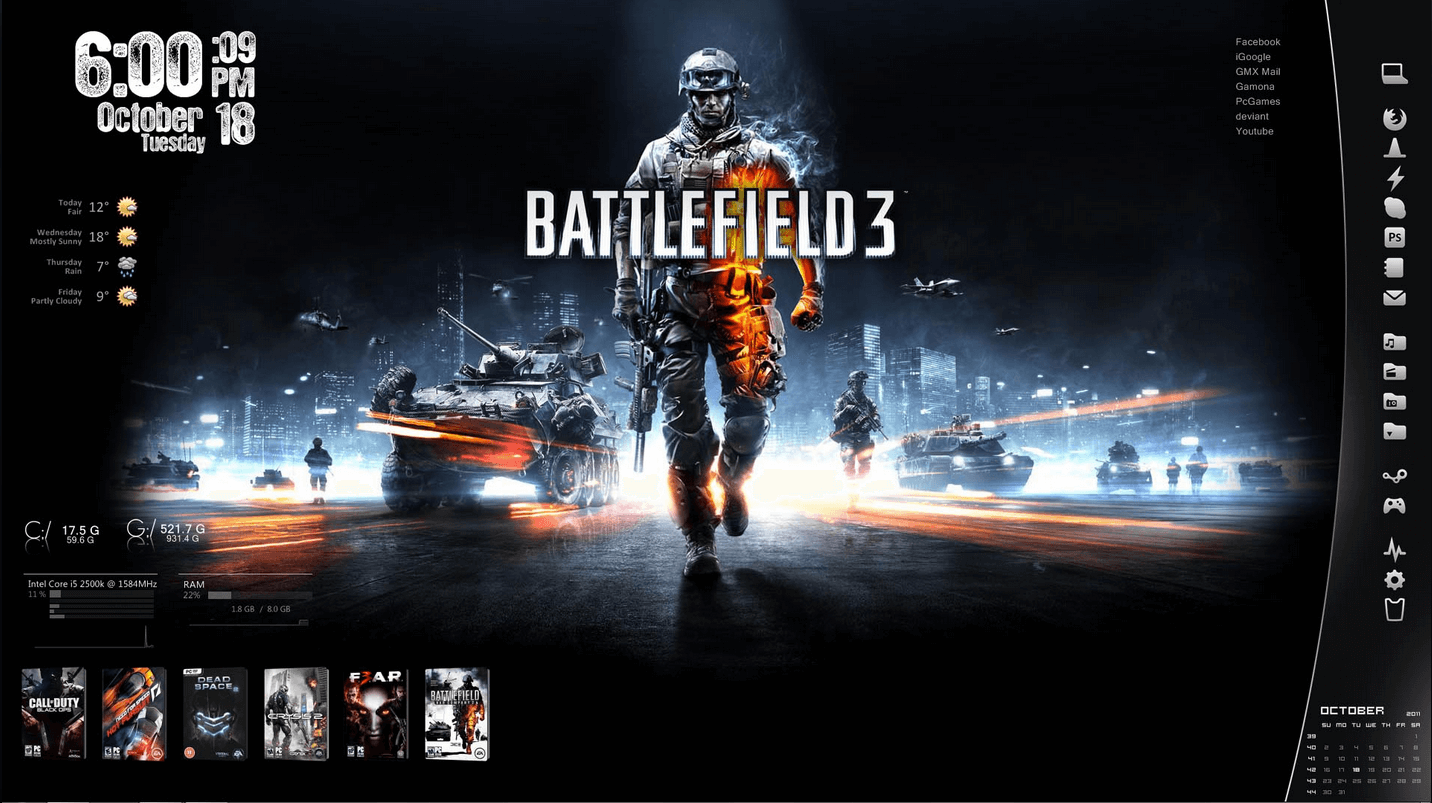 The Rainmeter Battlefield 3 theme pack comes with a good collection of background wallpapers, and almost all of them are 1080p or higher resolution images. These wallpapers themselves are sufficient to change the entire environment of your desktop PC. Additionally, you also get a customized sidebar that can be used to embed your most used application shortcuts.
Furthermore, the pack comes with many widgets that include the PILEUS clock, PC games dock icon, weather widget that offers live climate change, etc. all these widgets can change the entire look of your desktop and make it very functional. Recently, I have shared these iCloud bypass tools for free.
The next best Rainmeter skins on our list is Phenix. It is a perfect, minimalist theme, and it has been designed by a DeviantArt creator named DD-921. Therefore, if you want a minimalist environment on your PC, I highly recommend giving this theme a try.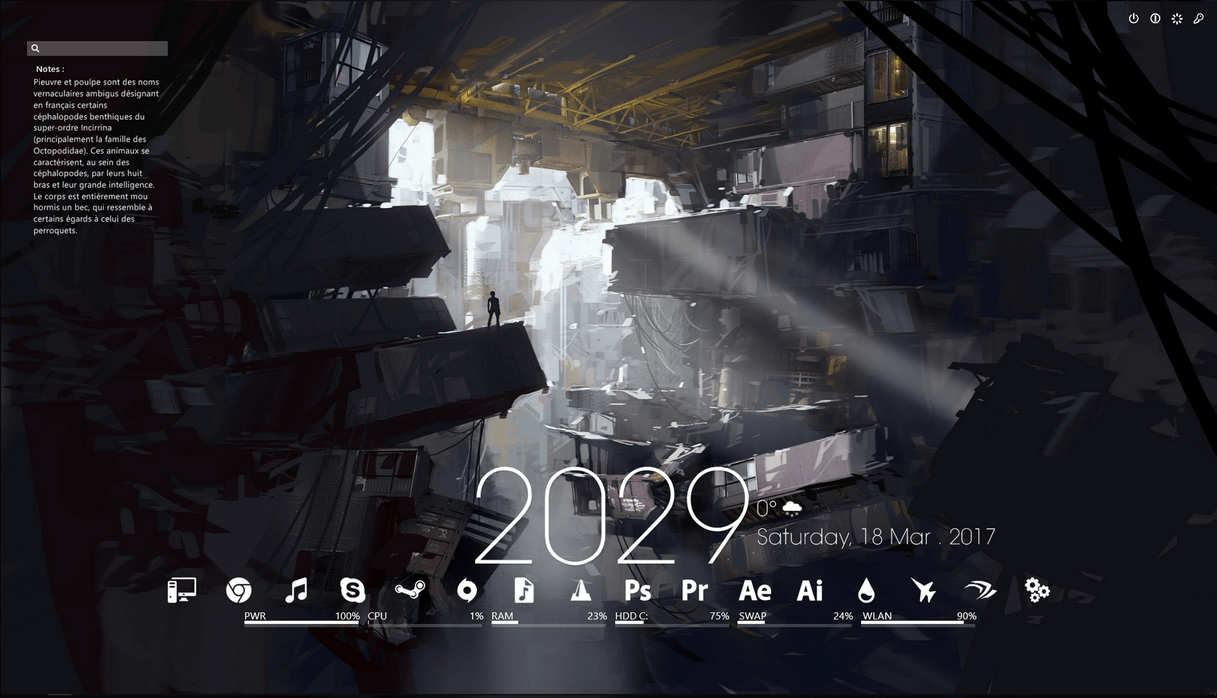 This Rainmeter skin, by default, comes with some very clean yet functioning widgets and icons. You can use these icon sets to replace the default app icons. So that all other app icons can easily blend with the theme.
When you freshly install the theme, you will see a cool looking Date and Time widget on the middle bottom of your desktop screen. Below that, you can see several widgets showing the power info, RAM usage, CPU usage, and other stuff. To set up a similar apps dock, you can install the RocketDock app.
Mond is one of the most famous and well-optimized Rainmeter skins available on the internet. Since it does not consume many resources from your PC, it is very famous among people who own low-end PCs and Laptops. It is the same reason why the Mond theme is so popular among people.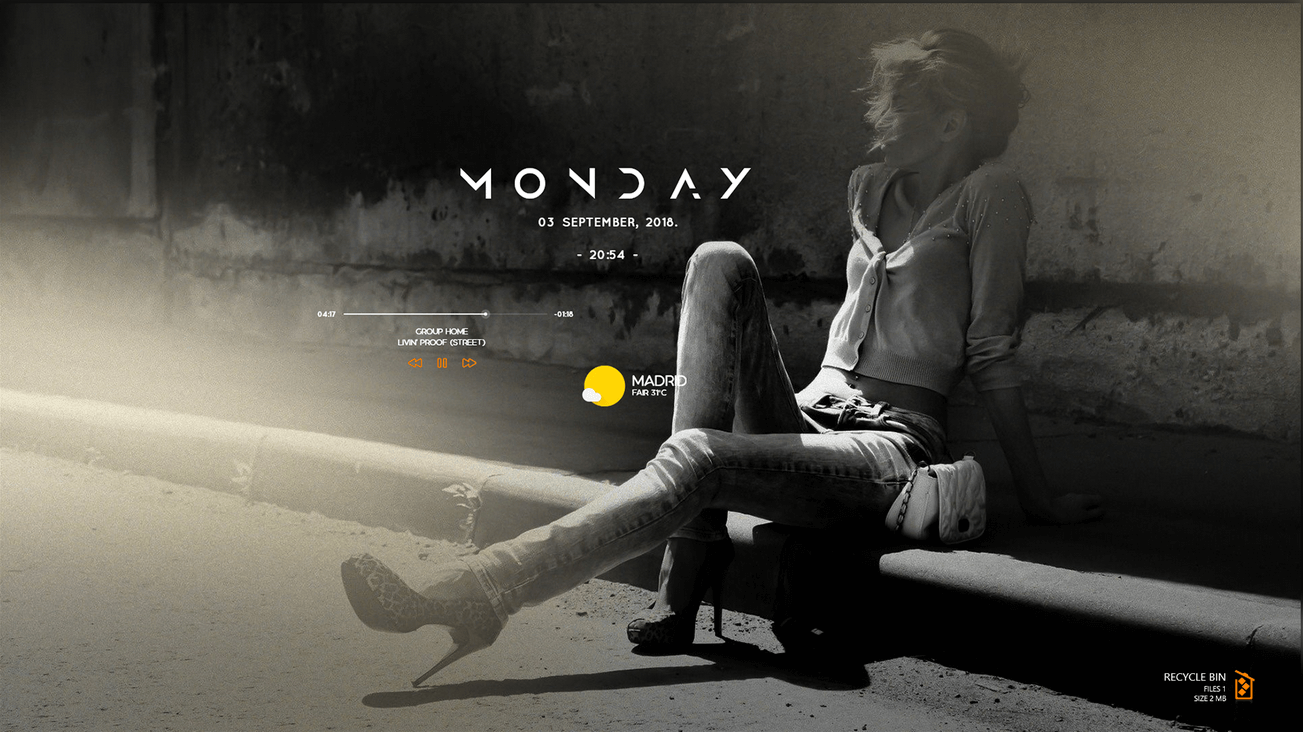 This Rainmeter theme has been designed by a very famous DeviantArt creator named HipHopium. He has also designed so many other best Rainmeter skins. The theme comes with several pre-designed widgets that can step up the functionality and view of your desktop.
By default, when you install this Rainmeter skin, you will notice a cool looking Date and Time widget in the middle of your desktop. On the right bottom side, you can see a widget that gives you direct access to the Recycle bin.
Additionally, this skin pack comes with numerous high-quality wallpapers that you can change according to your mood. If any of these sites ask you to fill a survey to download the theme files, you can use these Survey bypass tools and extensions.
ASUS ROG by Ivan is among the best Rainmeter themes that can change your desktop's entire look. If you are a geeky, nerd, or a gamer, and if you want to have a fully functional theme, then this one's for you. It fills your entire desktop with loads of essential information.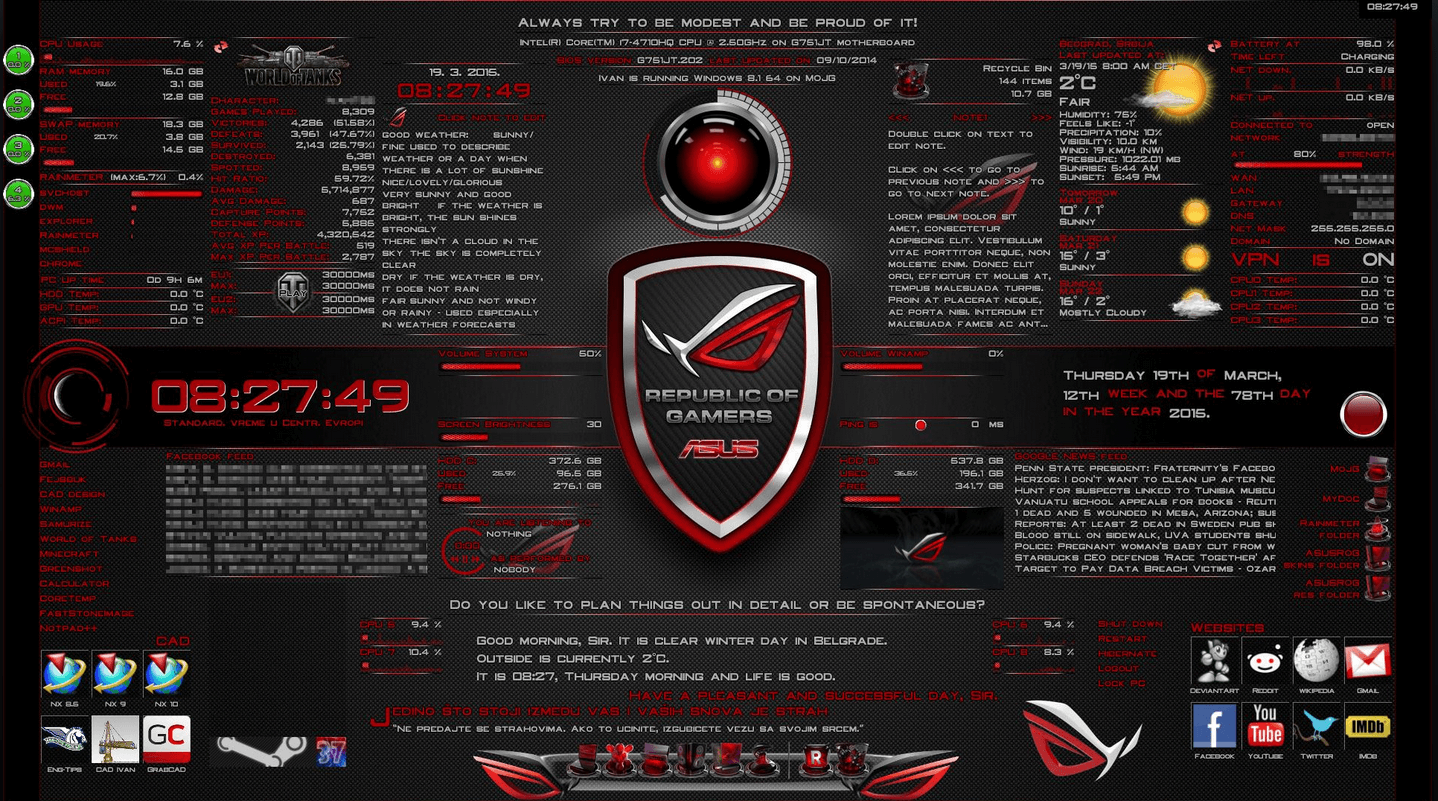 This theme pack comes with numerous cool widgets. All these widgets can help you to make your desktop very functional. You can set up widgets to see Date and Time, weather conditions, RAM and CPU usage, edit notes, and set up bookmark websites, apps, and whatnot.
You can also set up a 3D rotating logo in the middle of the home screen. You can replace the logo with your own. You can also change the entire color theme but believe me, and the red one looks perfect and eye-pleasing.
Stepris is an excellent theme which has been designed by Tanjil, a DeviantArt creator. It is a very clean looking theme with very minimal yet very functional widgets and features. By default, the skin set comes with a black and red UI theme, but you can manually change it according to your likings.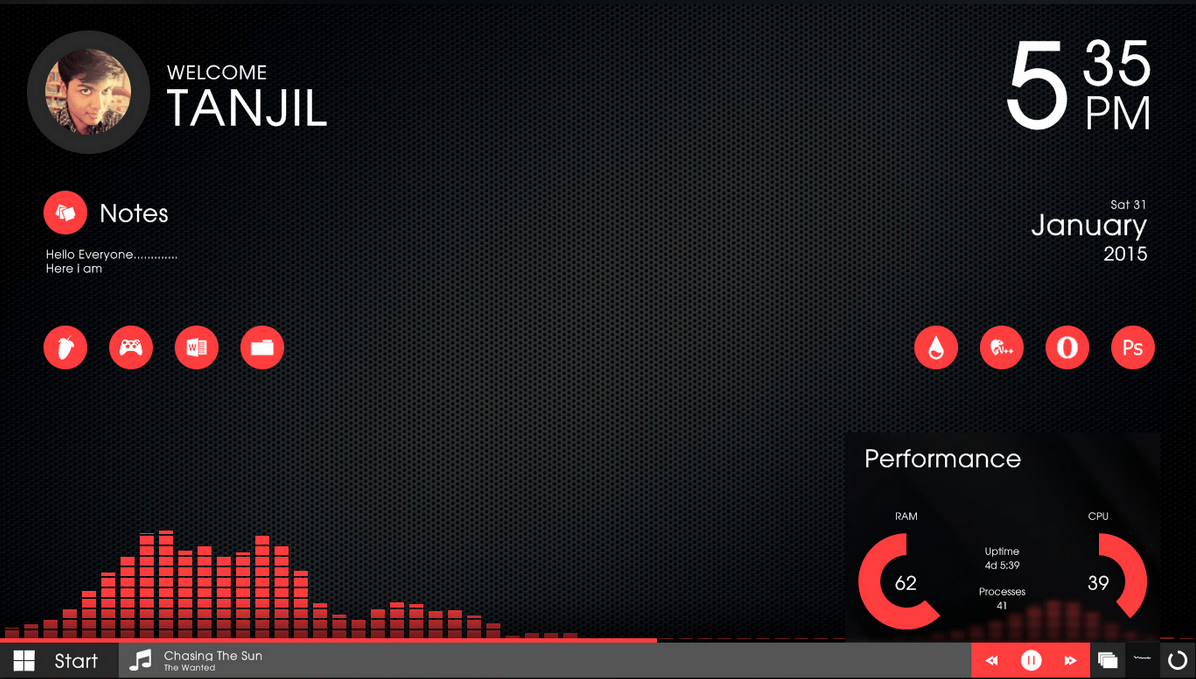 The skin suite is packed with a flat design taskbar with a Windows start button, battery indicator, and a music player. On the top right corner, you can see the 12-hour clock along with a date widget. It also features a visualizer that comes with a progress bar that shows music and songs' progress.
It also presents a launcher for applications that pop-out the app name when you hover over them. The best thing is that the theme is very easy to configure, and users can change it according to their likings. Overall, if you are looking for a minimal yet very functional Rainmeter theme, I highly recommend you try to Stepris theme.
Ageo is another best Rainmeter skins that have been designed by HipHopium, a popular DeviantArt creator. It is yet another excellent minimal looking theme on our list. This theme comes with a good collection of full HD resolution wallpapers that can change your mood at any given time.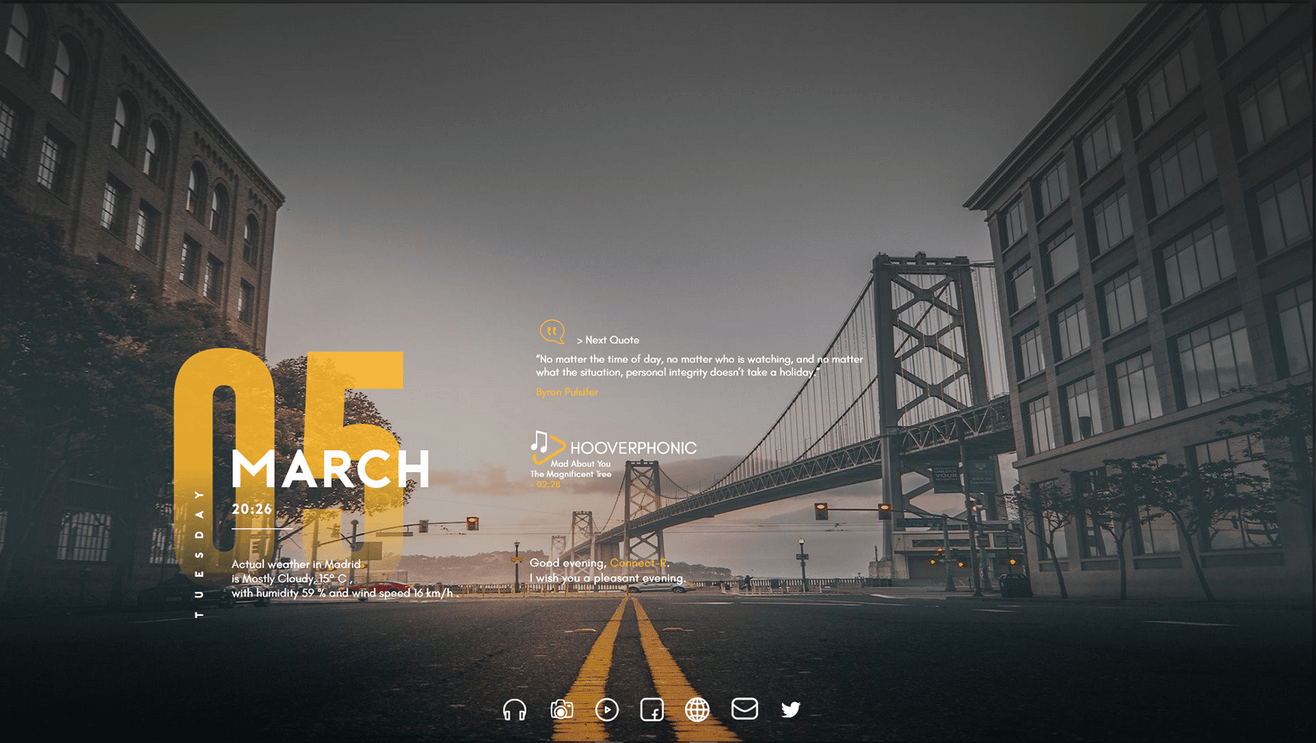 The middle bottom left side features a weather skin widget that shows date, time, day, and other weather-related information. In the middle section of the screen, you get a widget that shares some great motivational quotes that can boost your mental confidence. Beneath it, you get a music player that can easily pair up with a wide range of music players.
At the bottom, you get a cool dock that can be used to hold all your essential apps like browsers, software, and other stuff. The skin comes with a good collection of icons that you can use to replace your desktop apps' default icons.
The next Rainmeter theme on our list is Tech-A. BurnWell88, another popular DeviantArt creator, has designed this theme set. This Rainmeter theme exhibits a very futuristic yet very functional and minimal design.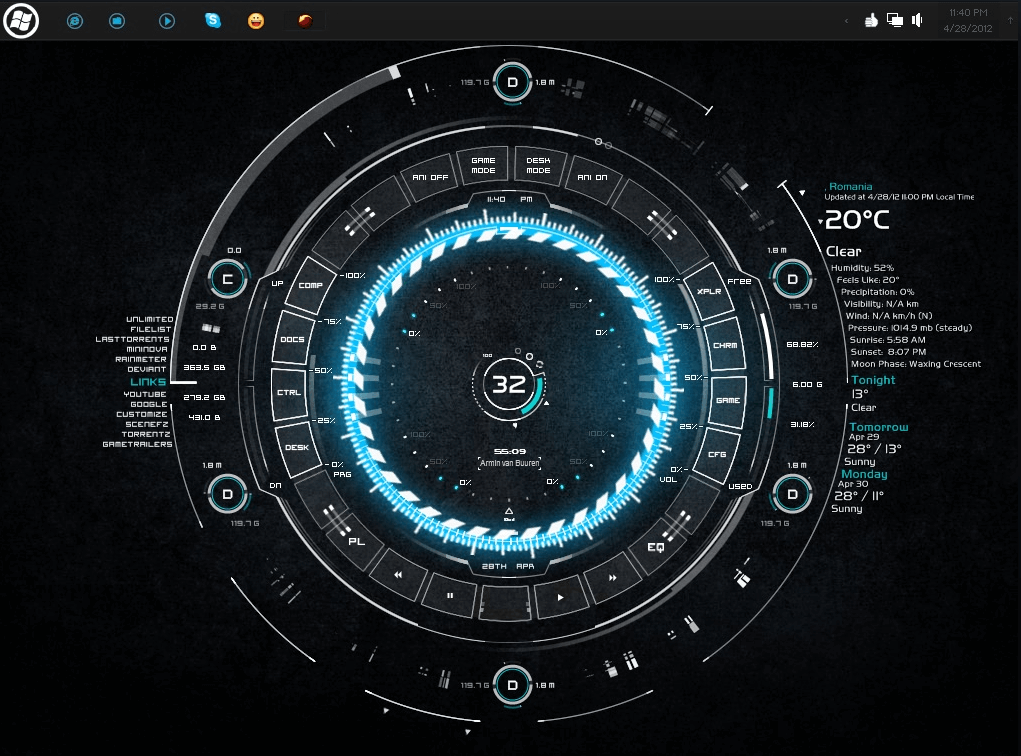 The theme comes with a customized taskbar that you can use to replace your default taskbar. Along with that, the skin includes plenty of information such as each core performance, upload and download speed, RAM usage, shortcuts, etc. You also get weather reports and time and date information.
All these widgets and information are appropriately arranged around the animated, arc reactor or core. The design appears very clean, and since you don't need to install any additional plugin, it is also very lightweight.
Enigma is one of the best Rainmeter skins on our list. It was first released in 2008 by another DeviantArt creator named Kaelri, and since then, it has been modified by over 30 developers of GitHub.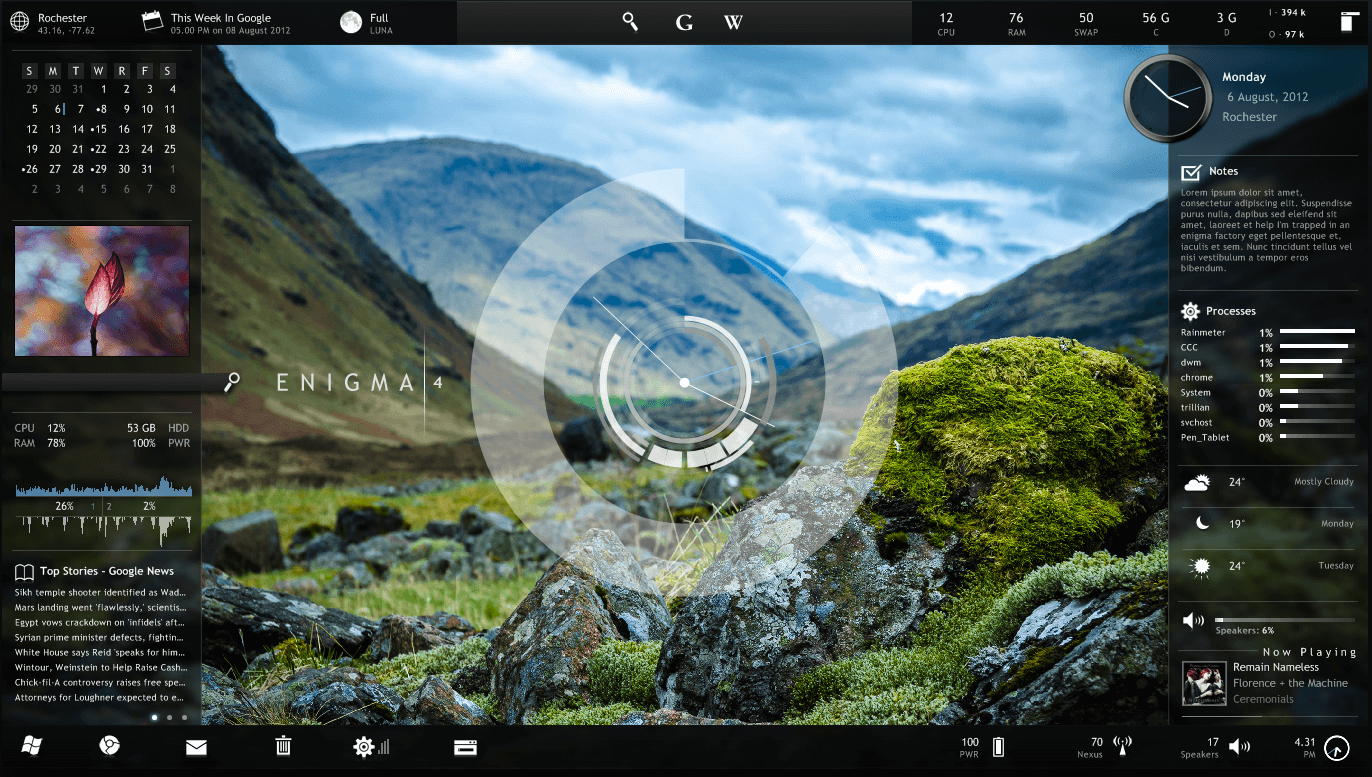 Plus, it has been reused and referenced by so many Rainmeter creators. Because of such immense popularity, Enigma was even chosen by Rainmeter as a default skin in 2009.
This theme looks very clean and minimal. Yet, it is very functional, and it can show you almost every piece of information about your system. Some basic widgets set by default are calendar, world time, weather report, CPU & RAM usage, Google News top stories, notes, and other basic stuff.
This Rainmeter theme also comes with a taskbar that you can use to replace your default one. Overall, if you love to customize your desktop and want a theme that can provide you a minimal environment, then Enigma is the best Rainmeter skins for you.
WISP is a unique Rainmeter theme with a very creative concept. The thing that makes it unique from others is its sub-elements. Instead of looking like different sections, this theme's widgets appear like floating on the wallpaper. They seem like they are part of the wallpaper.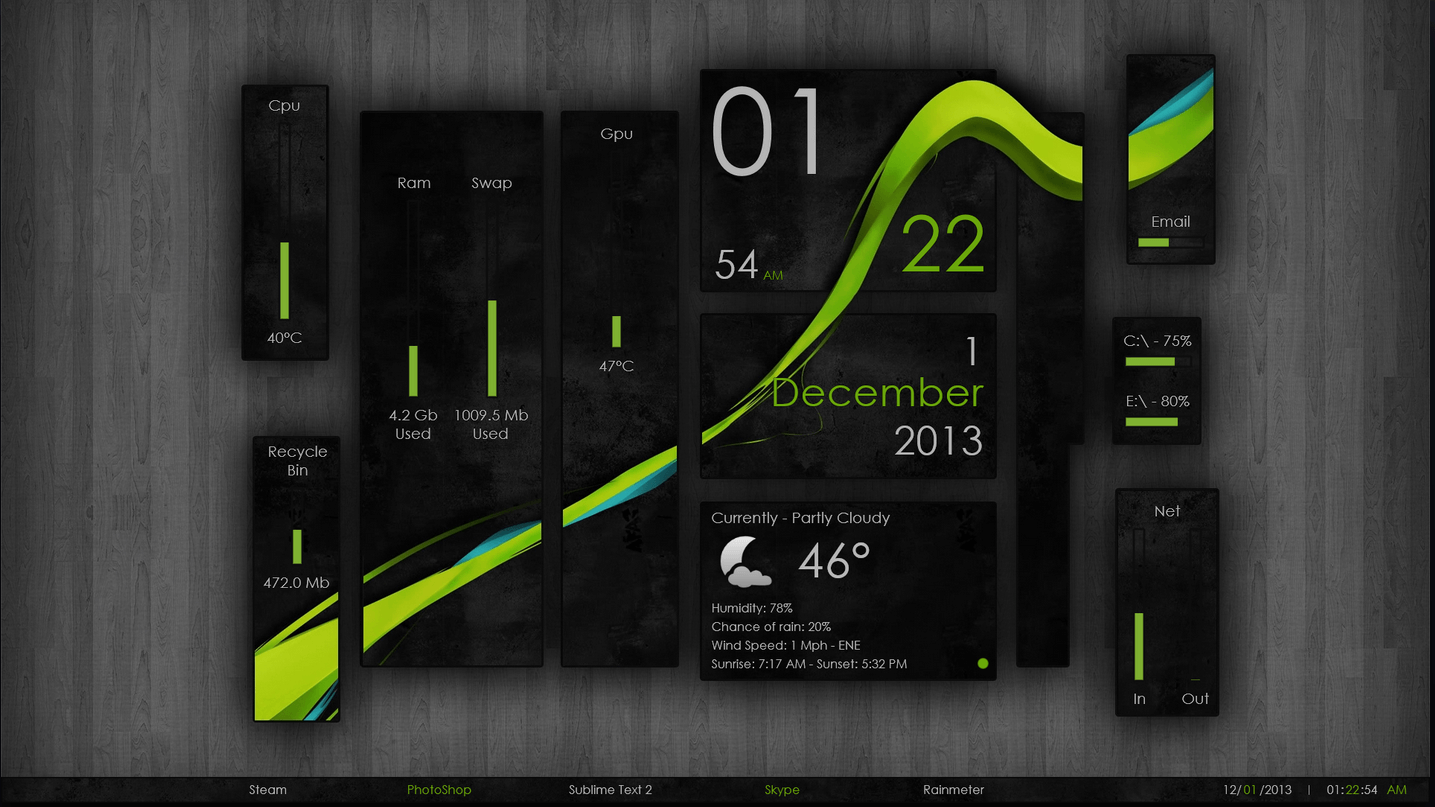 This theme has been designed by a viral DeviantArt creator named FiiZzioN. The entire set of this theme comes with a good collection of wallpapers. It also features some widgets that can enhance the functionality and overall look of your desktop.
You can set up widgets according to your need. Some most commonly used widgets are date and time, weather report, drive stats, RAM usage, GPU and CPU temperature, etc. Overall, the theme is elegant, and therefore, I highly recommend you give it a try.
Minimalist 2 is a clean and simple Rainmeter theme designed for people who love the minimal setup, as the name suggests. It doesn't come with all those fancy stuff; it is still very functional and looks very eye-pleasing.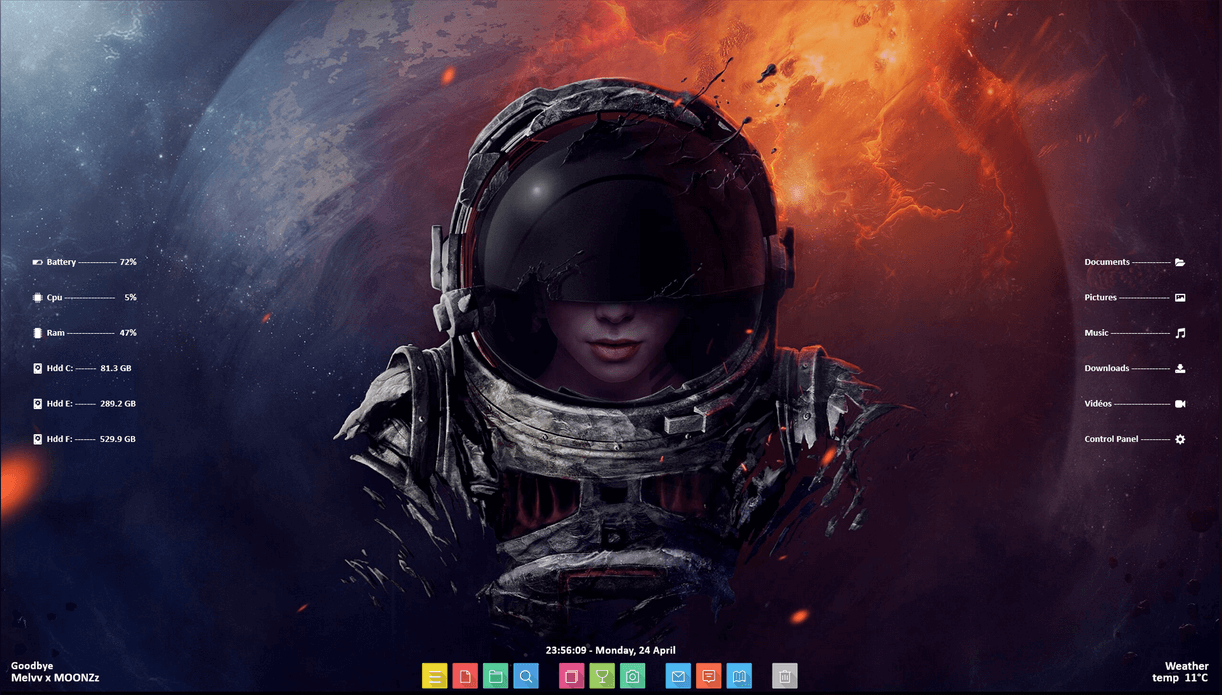 It is a very lightweight theme, and that's why it becomes a perfect solution for people who don't want to compromise with the performance or own a low-end PC. You can use widgets to create shortcuts to your drives and folders, to monitor RAM and CPU usage, and for other stuff.
Additionally, to enhance the functionality and achieve a similar look, you can install the RocketDock software from its official website. The best thing is that this skin is available in six different languages.
The next theme on our list best Rainmeter skins for Windows 10/8/7 PC is "Amazing Space." It has been designed for all the space lovers out there. It is one of the cleanest pieces I have ever used. The entire theme presents a geeky vibe.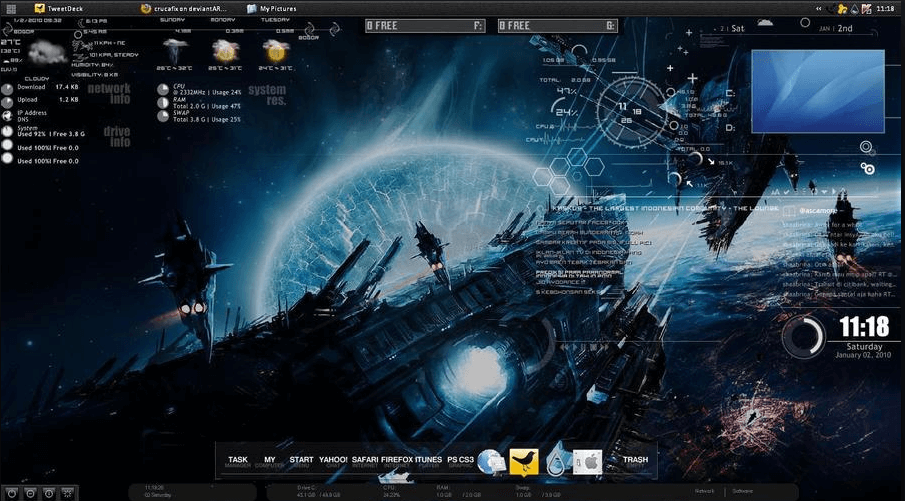 This theme comes with a hell lot of widgets. You can use widgets for almost anything you can think of – ranging from time and date, weather report, drives, CPU and RAM usage, temperature, and so much other stuff.
Because of this massive collection of widgets, this Rainmeter theme becomes a bit heavy. Therefore, to run it efficiently, you must be required to have a decent PC. Otherwise, you may notice frequent lags.
Moderate is a unique Rainmeter theme designed for minimalist users. It looks very similar to the user interface of the Android OS. Therefore, if you have a touchscreen device, I highly suggest you try this Moderate Rainmeter theme.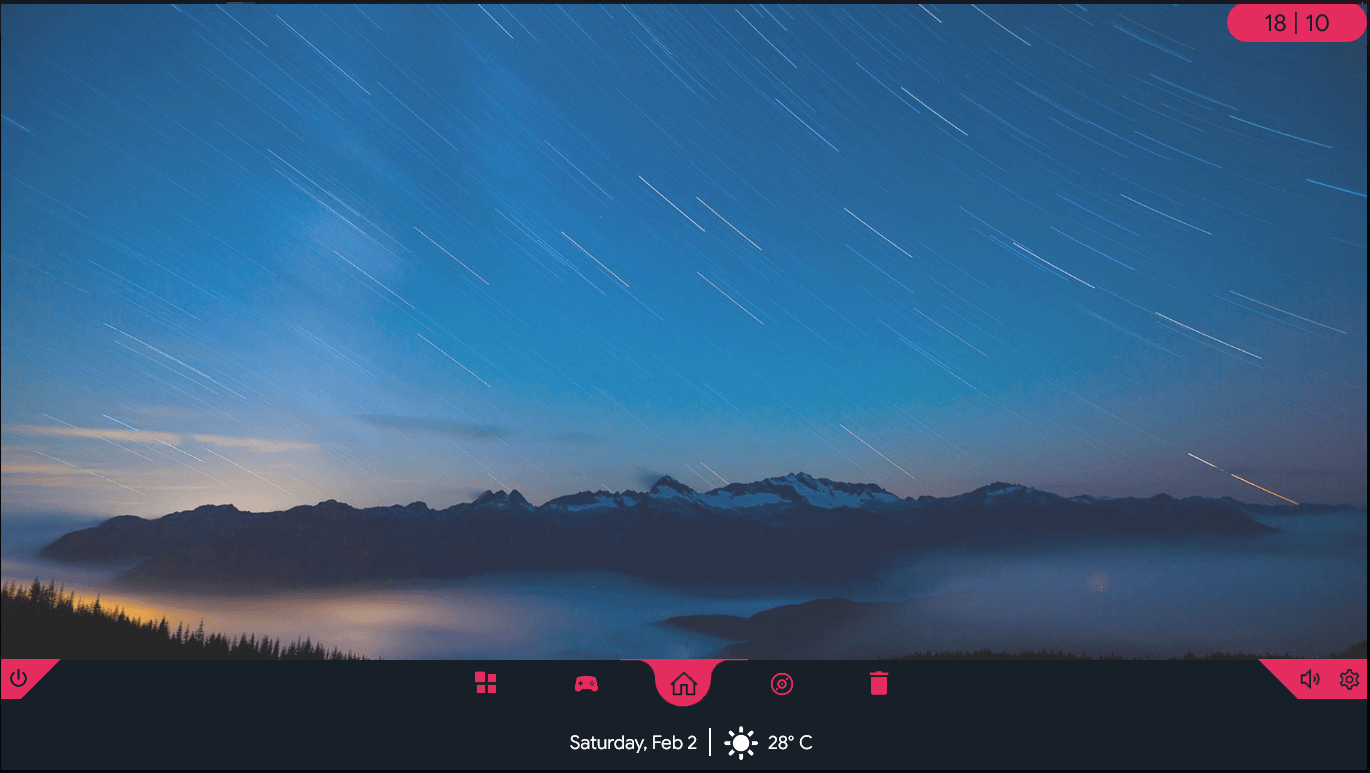 The theme has got a very stylish launcher that holds all applications installed on your device. Additionally, it has a quick setting button, volume button, and other stuff directly available on the home screen.
To enhance the look, you can use a color theme matching wallpaper. You can also install any app dock to manage all your essential apps on the desktop aesthetically. Overall, if you enjoy minimal themes, then I am sure you will love this one.
If you are a fan of Nick Fury from Avengers or his organization, this theme is the perfect solution. This modified version of the original Shield OS theme looks very enthralling.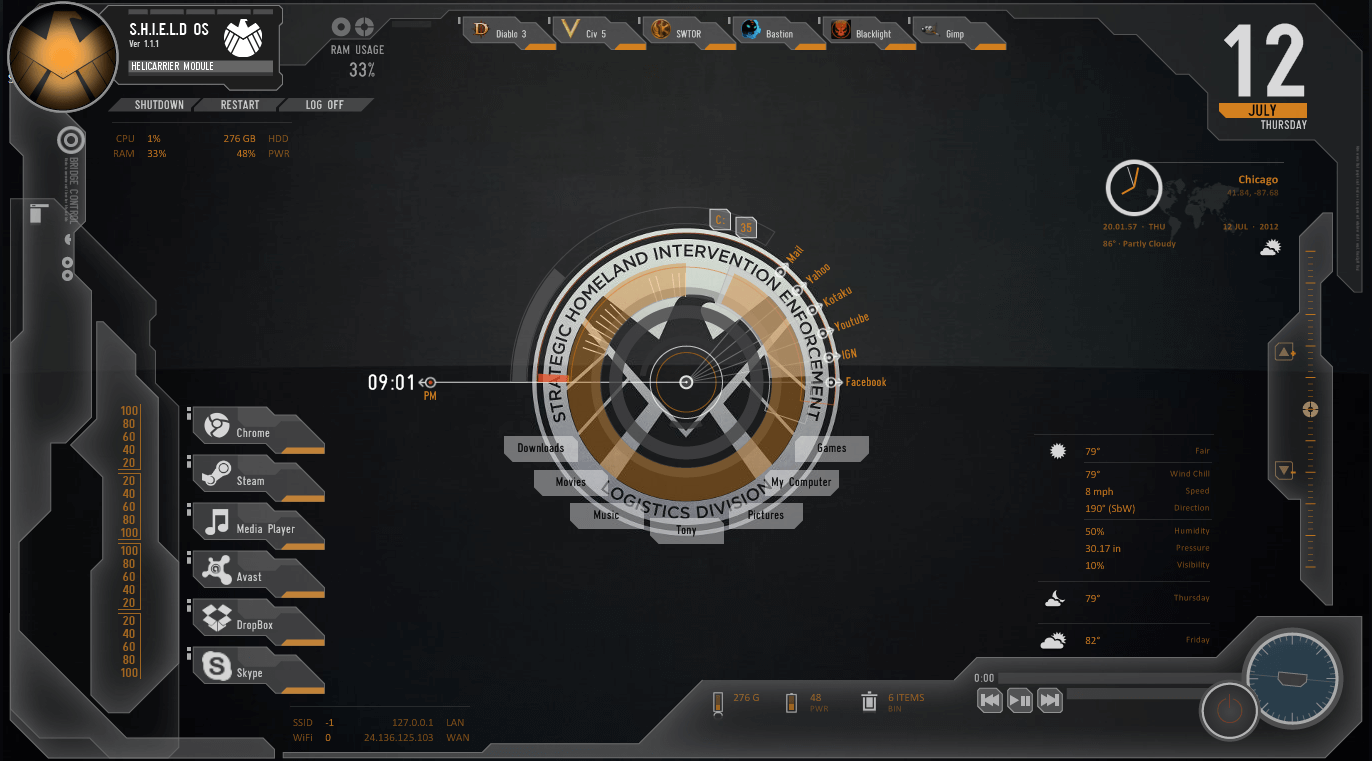 It is an ideal theme for people who want to show themselves as members of any secret organization. The background of this theme looks perfect and easily blends with the concept.
This Avengers Shield OS theme comes with numerous widgets that make it very functioning. You can use these widgets to create shortcuts to your favorite apps, drives, folders, and even shutting down or restarting your device.
The best thing that I like about this theme is that you can customize it the way you want. For example, if you wish to represent yourself as a member of Anonymous (The hacker group), then all you have to do is change the color of the theme and wallpaper, and that will do the job.
Last but not least, Win10 Widget is a set of Windows 10 functions that work fluently with Rainmeter. It is mostly available for people who don't want those flashy desktop customizations but want to make their desktop more functional with some clean and modern look.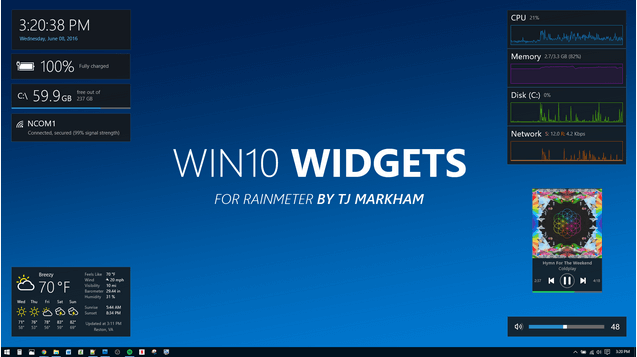 With this widget set, you get the ability to set up almost all essential features of Windows 10. And if there is any function currently not available, you can wait for some time as they are regularly working on its updates to add more functionality.
TJ Markham has designed this widget set, and he did a splendid job. So, if you are not into much fancy stuff and yet want to make your desktop more functional, then Win10 Widgets can be the best shot for you.
Must Read: Best Mac cleaners
Conclusion
Well, that's all for the best Rainmeter skins for Windows 11/10/8/7 PC. Rainmeter is a revolutionary program that changed the customization ways. It lets you customize your desktop the way you want. And the best thing is, it does not consume much memory and resources like others.
Plus, it is entirely free. That's why it is the prime choice for most of the computer freaks out there. The theme library of Rainmeter is very extensive, and the first time users can even get lost in them. That's why, to help you out with choosing your first Rainmeter skin, I crafted this list of 15 best Rainmeter skins.
With that being said, here I am wrapping up this article. I hope it helped you in finding a perfect theme for your desktop. If you have any questions, feel free to shoot them in the comment section below. Our team will try to respond to your queries ASAP.